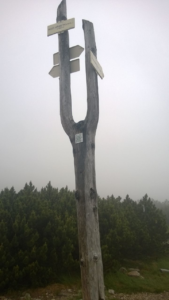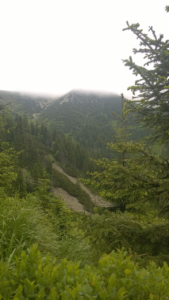 Beautiful countryside, fresh air, blooming mountain meadows – all this can be experienced in Spindleruv Mlyn in summer. Our first tour was planned as a short walk, but in the end, everything turned out differently. We were walking along the red hiking path towards Kozi hrbety, which immediately climbs steeply up to the forested ridge separating Spindleruv Mlyn from St. Peter. In the middle of the steep hill is a beautiful church, and a picturesque wooden bell tower. On the horizon, you can see the top of the ski slopes Medvědín. After a few hundred meters, the unforgettable views were spreading in front of you. We were hiking further passing the monumental Horal Hotel. Blooming meadows were literally breathtaking. We planned only a gentle climbing through the forest and we were looking for a yellow hiking trail to slowly return to the center of Spindleruv Mlyn. We were looking forward to the deserved sweet dessert at the local patisserie. But the most challenging part of our entire tour started – a steep forest climb, which, from my point of view, was quite demanding and it seemed to be endless. We completely missed the badly marked crossroads and we did not find the promised signpost. All we had to do was just to climb up, no other way was possible. We were climbing through the scattered block seas, our feet hurt, but the views were amazing. Suddenly, we found ourselves in an unplanned destination – Kozi hrbety. Slowly it started to rain, fog spread out, and the majestic views disappeared. The way down seemed to be the only right choice. Finally, a short walk became almost an all-day hike.
The hiking trail to Kozi hrbety (The Krakonos viewpoint) is recommended to physically capable tourists.  The path is not suitable for strollers.
Information about the place:
A steep ridge of Kozi hrbety lies at an altitude of 1320-1421 m a.s.l. Mining of copper, silver and arsenic ore affected the ridge in the 16th-17th centuries. Currently, the path leading along the side of Kozi hrbety is usually closed in winters due to avalanche threat. The ridge above Spindleruv Mlyn is part of the Cesky hrbet ridge. Its slopes are covered in large scattered block seas with growths of dwarf pine, spruce and other mountain pines.