Miller's trails
From our apartment you can walk about 1 kilometer to the crossroads of educational Miller's trails. It is a very pleasant walk along the river Elbe in a beautiful local countryside. All trails begin in the town park in front of the Savoy hotel (see the photo below the text). There is also the map with marked coloured trails and a woodcarving of the miller with a wheelbarrow.
Trails are easy and intended for families with children (each trail is equipped with children's games and boards with interesting information about the animals and plants), they are also suitable for the retired people who want to go for a calm stroll passing interesting parts of the town, or for the visitors who would like to know Spindleruv Mlyn better.
The red trail- Miller's circle
Partially passes through the town center, which takes you to Svaty Petr Ski Resort. The length of the red trail is 2.8 kilometers. On the trail you can also stop and relax at the Biskupska (Bishop's) viewpoint.
Photos: Spring view from Bishop's viewpoint
The green trail – Miller's educational trail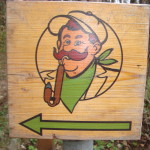 is the shortest one. It goes through the entire town center and it is 1.1 kilometers long. One of the attractions on the trail is a nice viewpoint called Na Skale.
Photos: Na Skale viewpoint, in our experience it is better to find calmer place for having break or snack but the view is really nice
The blue one – Miller's hike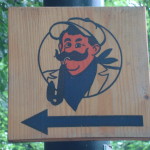 The longest of the miller's trails is the blue one- Miller's hike. The blue trail avoids the town and leads you mainly in the terrain. The length of the blue trail is 3.1 kilometers. If you've finished the blue trail, you can try bobsled track or Monkey park. In our experience, it's great. Let's have fun.
Photos: Bobsled track, Price list of Monkey park, Price list of Bobsled track, Be careful – no marked crossroads (the path leading straight on goes to the bobsled track, the path – Vodovodni route – leading up goes to Horni Misecky)
For more detailed information, visit http://www.mestospindleruvmlyn.cz/summer/hiking/mlynars-educational-trails/